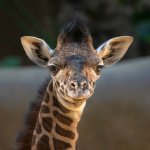 Jamie Pham
The calf is Zainabu's fourth for mother Zainabu and Philip, the LA Zoo added.
"Every giraffe birth at the LA Zoo is thrilling," said Mike Bona, animal keeper at the Los Angeles Zoo, in a press release.
The International Union for the Conservation of Nature classifies giraffes as "endangered," owing to habitat loss and fragmentation, poaching, and disease.
"I'm ecstatic to have this new calf as a symbol of his endangered species," Bona added.